We know that family is important. In fact, it's so important that God instituted the creation of it in the very first chapter of our Bibles (Genesis 1:27-28)!
But let's be honest. Sometimes, particularly after a nasty argument or a familial betrayal, family doesn't always feel very special. When you hear the door slam for the quadrillionth time or find that someone's eaten the final slice of pizza that you specifically told everyone you were saving, the value and purpose of family might dim just a bit in your heart.
In those instances, it is helpful to remember just how foundational the family unit is—both for children and parents! For children, the guidance, support and love of their parents is meant to help raise them up in the way of the Lord. For parents, there's respect, honor and, once again, love that will grow parents in wisdom and grace in pursuit of God. Yes, there may be moments of strife, but families are able to nurture one another in ways that other human relationships scarcely can.
Sometimes, we need to be reminded of that truth. Fortunately, there's many movies that aim to do just that.
Why not plop your family down on a couch together to watch a movie that celebrates the value of family? Who knows? You might just be hugging one another in love by the time the credits roll.
We've got a list of movies we'd suggest for that job—keeping in mind that none of these are full-on endorsements. Each movie below will have its own content concerns that parents will want to know about, so don't forget to read our full reviews on them before watching.
They may not be human, but clownfish Marlin and Nemo are still father and son. After an argument wrought from Marlin's overprotective parenting, Nemo is captured by a scuba diver and transported over 1,000 miles away to a fish tank in Sydney, Australia. Marlin braves thick and thin in order to save his son—and learns that just as Nemo needs his guidance as a father, he also needs to let his son have some freedom, too. Plugged In's Steven Isaac writes, "The film stresses the need to maintain balance in your family life and in the way you introduce your kids to the world. And an extended family of sea turtles provides insight into how steady, loving relationships can flow more smoothly." (Available on Disney+).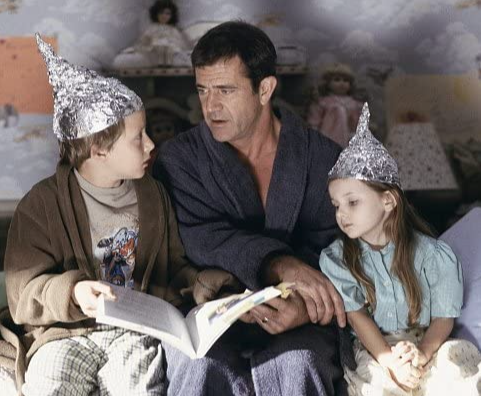 Signs (PG-13, 2002):
When your world is flipped upside down, sometimes, the only thing you can do is hold on to your family and weather the storm together. Well, that's what Graham is forced to do when rumors and, ahem, signs pointing towards aliens begin to cause worldwide panic. Signs offers an unusual look into the familial unit—Graham's wife died in an accident long ago, leaving Graham to be the remaining rock of the family. And though Graham is rattled by everything going on, he "remains devoted to his children," as Plugged In's Bob Smithouser writes. While alien and disaster movies tend to focus on their effect on the world, the movie's small cast and focus on a single family helps us to realize just how important our loved ones should be to us—especially in times of struggle and fear. (Available to rent or buy on Amazon Prime Video)
The good news? Brothers Ian and Barley have a magical crystal that could let them speak with their deceased father for just one more day. The bad news? The spell doesn't work exactly as intended, leaving their father's visit confined to his sentient pair of legs. Another crystal could fix the issue—but it'll require the brothers working together to get it before their father disappears forever. Ian and Barley launch their quest to see their father again—but through the journey, the two of them learn to rely on one another as well. Furthermore, the duo's mother sets off on her own daring adventure—one predicated on keeping her two kids safe. "Onward emphasizes how important dads are," writes Plugged In's Paul Asay. "But even more so, it stresses how important—and how valuable—families are, even when they can drive you a little crazy." (Available on Disney+).
When 40-year-old Adam discovers that the government has been using time travel to control the world, he travels back in time and teams up with his 12-year-old self in 2022 to save it. We'll be the first to admit that The Adam Project has quite a few more content concerns than others on this list—including a hefty amount of profanity. But for older audiences, this film's messages about family come through loud and clear. The older version of Adam often corrects younger Adam's cruel treatment of their struggling mother, and the younger Adam works to fix older Adam's false memories of their father. Furthermore, a couple of scenes will help parents realize just how valuable parenting is—even if their children aren't the most appreciative. Though The Adam Project certainly comes with a slew of issues, it will also make viewers reflect on the importance of, and the appreciation they should show to, their own parents. (Available on Netflix).
What does it take to be the world's greatest supervillain? Well, it might take adopting three orphan sisters in order to infiltrate your biggest rival's lair before slowly realizing that you actually care for the girls. Admittedly, that last part wasn't exactly part of Gru's plan, but that's what happened. The girls want to be a part of a real family, and their desire for that starts to override Gru's personal, nefarious intentions. "Their continued interactions soften Gru's calcified heart and cause him to realize that he's far better suited to being a super dad than super bad," Plugged In's Bob Hoose writes. Despicable Me stands as a wonderful animated flick that'll remind us that adopted children are just as part of the family as those related by blood—and the role of father, likewise, has nothing to do with genetics. (Available on Netflix).
Sometimes, saving your family means risking never seeing them again. At least, that's what Cooper has discovered. The world is on course for a dust-bowl death, and it's up to Cooper and his team of scientists to discover which far-away planets would be most able to sustain human life. But that whole process (combined with the theory of relativity) may mean that Cooper returns to his family decades after leaving—if at all. Interstellar explores the love Cooper has for his daughter, and the pain he endures knowing he might never see her again—even if it's in an attempt to save her life. The two are propelled by love for one another and the hope that, despite however many light years apart they are, they'll see each other again. (Available on Paramount+).
Families can be dysfunctional, but it sure doesn't help anything when your family also has superpowers. Take the Parr family: on the surface, they look normal (or, if you will, on par). But look a little deeper, and you'll realize that there's a bit of familial issues that need to be rooted out—and they're not exclusive to superheroes. This film portrays a surprisingly realistic family—parents who don't always know exactly how to best raise their children but still give it their best every day, and kids who aren't always the most respectful bunch but who still love and submit to their parents regardless. When members of the family try to go it alone, things tend to go south. But when they work together, that's when the beauty of the familial unit emerges. But the best message of all? That not even superpowers can match the incredible nature of the family. "At its heart, I saw The Incredibles as a story about a family learning to balance their individual lives with their love for one another," director Brad Bird says. (Available on Disney+).