Welcome to the second batch of nominees for the Plugged In Movie Awards. This time we're focusing on movies for teens.
Now, this category, more than the others, may leave you scratching your collective head. This is, after all, where we typically place our big-ol' PG-13 blockbusters: The superhero movies, the Star Wars movies, the actioners that make the cut. And while we still have one bona fide PG-13 popcorn-muncher in this bunch, the list admittedly looks a little different from years' past. We include Guillermo del Toro's Pinocchio, a PG film that seems made for children—and thus, naturally, would be in consideration for our Best Movies for Kids category. On the other end of the spectrum, Till lands on this list, too—a film that seems like more of an adult choice.
Why did they land in our Best Movies for Teens category? Well, you'll have to read on to find out.
As we've mentioned, just because these movies landed on our list, that doesn't make them perfect for your teens. Read the full review to make sure it fits your family's standards.
And once you've read (and heard on last week's podcast) what we have to say, we invite you to vote for your own choices. You can log a vote in the comments section below. You can vote on Facebook and Instagram posts for each of these blogs. You can even send us an email at [email protected].
And remember—for the first time ever—Plugged In will livestream our final deliberations and selections on a very special video edition of The Plugged In Show. We'll tell you who you, the Plugged In reader/listener/viewer, voted for as well. And all that will happen at 10 a.m. (Mountain Time) on March 7. (That'd be noon Eastern time and 9 a.m. Pacific time, by the way.)
And now, on to the Best Movies for Teens nominees. (Movie summaries are written by Paul Asay, Adam Holz, Bob Hoose, Emily Tsiao and Kennedy Unthank.)
In 2020, fans of the Marvel Cinematic Universe were shocked by the tragic news that Chadwick Boseman, aka Black Panther, had passed away from cancer (a battle he'd largely kept under wraps). Marvel faced a challenging dilemma: Should they recast the role of King T'Challa or address the passing of its beloved star? They chose the latter. Which means that as this film opens, Wakanda's king is gone. The nation is mourning. And T'Challa's family is handling their grief as best they can. But Queen Ramonda and Princess Shuri don't have the luxury of processing their loss in their own way and time. They have a country to lead, and Wakanda is under attack. Wakanda Forever comes with the usual MCU warnings: violence, language, sensual outfits, etc. But the film handles loss in a way that reminds us of what fans truly love about the MCU: For all their powers, these heroes feel like us; and we see ourselves in them. Characters learn how to handle their overwhelming sadness. They express their grief in rage at the unfairness of it all. And when we see Shuri shed tears for brother T'Challa, we understand. We feel. And perhaps, for both the character and actor, we in the audience wipe a tear away, too.
According to Catherine (Birdy to her friends), there are many things that girls cannot do. They can't go on crusades, for instance. They can't cut their hair, be horse trainers, laugh very loud, marry whom they will, be monks, drink in alehouses or go to hangings. Birdy, of course, wants all of those things. So much so that she makes it a point to be as unladylike as possible. Parents probably won't want their daughters to aspire to those goals. But this coming-of-age story has still some great lessons to impart. Through trial and error, Birdy learns about kindness, gentleness, selflessness, loyalty, bravery, self-sacrifice, friendship and even love. Moreover, the film emphasizes the importance of father-daughter relationships. And while this is most definitely a period piece, the lessons it offers and sweetness it embraces makes this a strong story for any age.
We know the story—or, at least, we think we know it. It's been told and retold plenty of times. But in the hands of Oscar-winning Guillermo del Toro, the tale of this little wooden puppet on a quest to become a real boy takes on new dimension, depth and, yes, darkness. That darkness is one reason why we opted to move this story into the teens category, but not the only one. Its themes of loss and betrayal, along with its muddled, tricky-to-parse spirituality, make Pinocchio a film that demands thought, discussion … and intentional consideration before you watch. And yet the core story of a boy learning what's right and wrong in the world—and a father learning to love a son even if he's made of pine—is ultimately a strong story that imparts some good lessons along the way. It's the best version of Pinocchio since Walt Disney himself helmed the 1940 classic animated version. And that's saying something.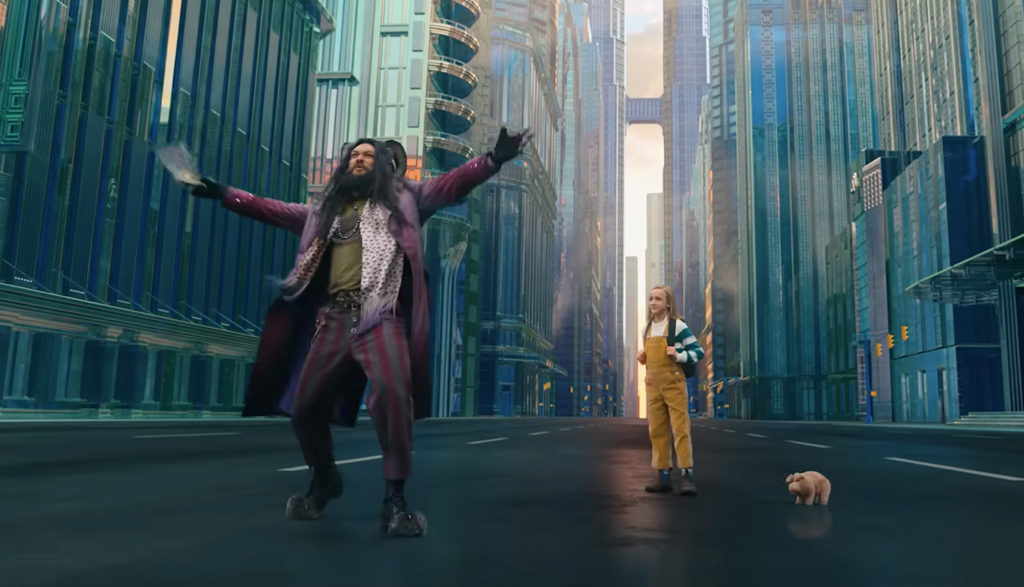 The world of dreams is much more complex than you might think. In fact, it requires a whole subconscious governmental agency, the Bureau of Subconscious Activities (BOSA), to regulate: They give you the dreams you need in order to grow you into the person you need to become. They're also tasked with hunting down any dream outlaws who might cause trouble by jumping between the dreams of other people. That's bad news for Nemo, one such dream outlaw, who's scouring other people's dreams for gift-granting magic pearls. All Nemo wants is to be able to see her deceased father again, but BOSA is adamant that Nemo will need to learn how to move on if she's ever to grow into who she's meant to be. Slumberland provides a surprisingly intricate story that centers around how to deal with the passing of a loved one. The film certainly isn't all daydreams. There are some suggestive remarks; a little crude language; and a vague spiritual connection between dreams and life's waking present. But when Slumberland comes to a close, viewers just may feel more prepared to face the problems present in the real world, and not just dream land.
For loving parents, losing a child is unimaginable. To lose a child as Mamie Till-Mobley did—in a horrific lynching hundreds of miles away—would feel unendurable. But Mamie did endure when her son was beaten, murdered and mutilated in 1955. She turned her personal tragedy into a national catalyst for change, and she credited God for giving her the strength to do so. Till chronicles the real-life 1955 lynching of Emmett Till and its difficult, but ultimately inspirational, aftermath. Powered by an awards-worthy performance by Danielle Deadwyler, Till just might give parents a cinematic catalyst to talk about race and justice with mature teens. We see people make difficult decisions in incredibly ticklish circumstances. The film comes with some pause-worthy content concerns. Language can be coarse and offensive. Emmett's post-mortem body is, indeed, a hard thing to view. But that's part of the point. No, Till is not the easiest movie to watch, but it's well worth watching all the same.
Plugged In Movie Awards 2023